Long time rap artist David Banner has been making moves within the film industry over the past few years. His most recent high profile gig was playing the father of 'Butler' Forest Whitaker in the new Lee Daniels film.. Banner has come a long way since his movie debut in Black Snake Moan. Now He's doing a new venture called Walking w/ the Gods.
Not one to sit back to wait and beg for opportunities, Banner has long talked about doing his own projects and true to his word, he launched the 2M1 Movement which is designed to allow Black people to control movies, music and content. As he recently noted  'We are more than just characters in a video game' .
Banners first project  was  an independent album called Sex, Drugs and Video Games. It featured everyone from Asap Rocky to Lil Wayne and Bun B to name a few. Banner's first single off the album was a cut called  Malcolm X A Song to Me
http://www.youtube.com/watch?v=oDWcyDFPnqk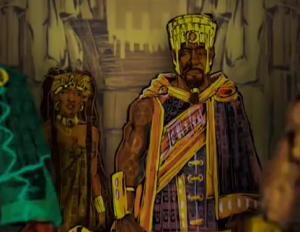 Banner used proceeds from that album to fund the  2m1 Movement along with a kick starter campaign to launch his second project, an ambitious short film series called Walking w/ the Gods. Here Banner flips the scrip and taps into African Mythology to tell the story of a super hero named Aket Heru.
Aket is the son of a king who is cursed after his father bypasses his older brother to install him as King upon his death. The older brother named Liel invokes evil spirit named Setus which causes chaos, erases Aket's memory and forces him to travel through time seeking to quell the inner chaos, find himself and realize his Godly powers. This only comes about when Aket achieves inner balance and truly believes his powers within.
In the short film Aket is in the 21 st century living happily with his girlfriend Lisa when chaos from the evil spirit Setus impact him and that's when the battle to find inner peace begins..
Banner does a good job for his first indie adventure. It was good to see him move away from simple, low hanging gangsta style ratchet story lines that could easily attract millions. Here Banner attempts to challenges us.. Below are the first couple of installments.
Walking w/ the Gods pt1 & 2
http://www.youtube.com/watch?v=nu0Omz1ff4E
Walking w/ the Gods pt3
http://www.youtube.com/watch?v=LovyrGsLXtQ
Walking w/ the Gods pt4
http://www.youtube.com/watch?v=uoXV102vn1I